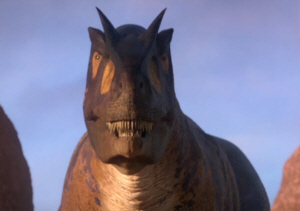 Saurophaganax



Name:

'Lizard-eating Master'

Age:

Late Jurassic

Length:

12 Metres

Weight:

4500kg

Range:

North America
Saurophaganax was the giant killer of the Jurassic. It was larger and most probably more efficient than Allosaurus. In fact it would even steal dead carcasses, of both Camptosaurus, Stegosaurus and others, from Allosaurus. It was discovered in 1931 by John Wllis Stovall. Slowly over the next year, he discovered these amazing remains. It turned out it was the biggest carnivorous Dinosaur discovered to have lived in that region. Fully grown Saurophaganax took food from other predators, as its size would be the weapon. Adults may have scavenged more than they actually killed their own prey, as it would have been much less work to do.[152-144].There is a debate over the validity of saurophaganax some scientists consider it a species of allosaurus but recents studies suggest it is its own genus.
in the episode fight for life it is seen briefly fighting a allosaurus over the carcass of a camptosaurus
Edit
Community content is available under
CC-BY-SA
unless otherwise noted.