Kimmerosaurus



Name:

'Lizard from Kimmeridge'

Age:

Late Jurassic

Length:

6.6 Metres

Weight:

1000kg

Range:

Worldwide
Kimmerosaurus was a highly succesfull member of the Plesiosaur family. Although its high success was known because of its hunting skills, it was constantly under threat and danger.
Predator X
and creatures like Liopleurodon endangered the creatures existence. They hunted
Squatina
and other small sharks or fish. Their diet was plentifull, and they weren't incredibly fussy. Evidence suggests that kImmerosaurus and other Plesiosaurus would keep their offspring safe by staying in small sanctuaries within the Ocean, where large predators cannot easily hunt their streamline bodies down. However, they have to take to the open water eventually to feed.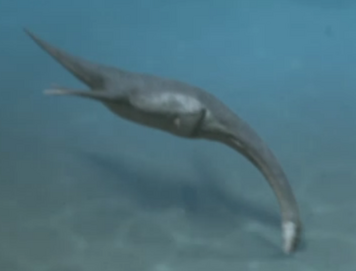 Community content is available under
CC-BY-SA
unless otherwise noted.